CreditReports.dk
CreditReports.dk offers comprehensive and precise credit risk and valuation reports on companies based in Denmark. Our Credit Risk Reports help you make confident decisions regarding credit risk management by utilizing bankruptcy risk analysis, company credit rating, and a credit limit recommendation. Our valuation reports help you in all situations involving ownership changes as well as scenario analysis. Read more about our products and their features from the Products menu.
Our reports are available for almost any Danish company and uses official data from the Danish Central Business Register. Our models have been developed using sophisticated machine learning methods and a large amount of financial data, ensuring an accurate estimate of the credit risk. You can read more about the method from the page Credit Risk Assessment Methods. Company valuation is explained on What is Valuation page.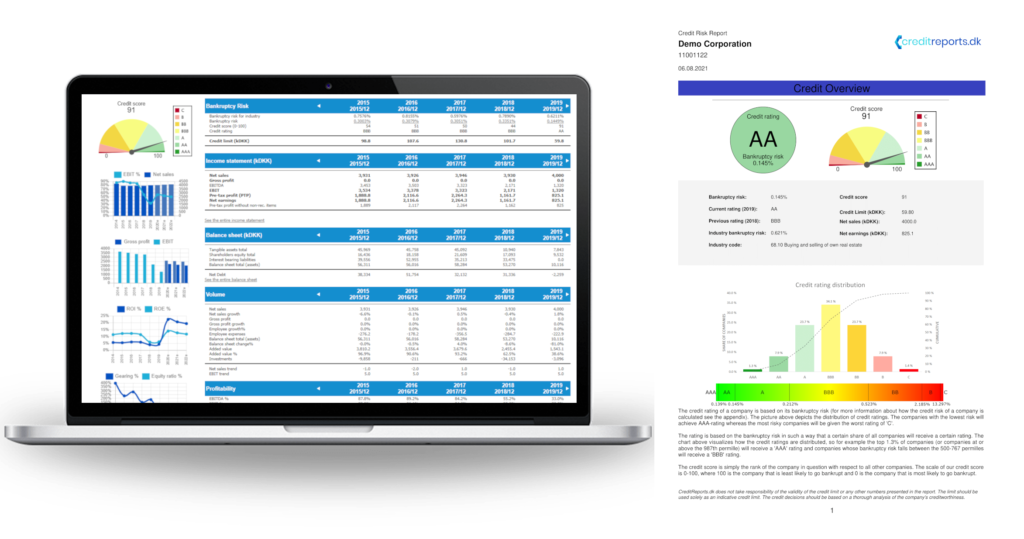 The CreditReports.dk Report platform is in beta phase, during which we will offer full access to the system free of charge. You will get access to the online platform and unlimited free credit risk and valuation reports each month after you sign up for the system.
After the beta phase, we will offer a freemium model for the sale of our credit risk and valuation reports. You will get access to three companies of your choice for free each month, or you can easily purchase one of our subscription plans to access more companies.
Alternatively, you can buy individual companies. For any company you have access to, you can easily create your own scenarios and print unlimited credit risk reports. You can read more about our upcoming pricing models from the pricing page. To sign up, click the button above.
What Makes Us Different?
State-of-the–art risk models
We utilize modern machine-learning algorithms in evaluation of credit risk. Read more about our models the Credit Risk Assessment Methods page.
Automated and editable forecasts
When obtaining your reports, you will automatically have computer-generated forecasts for the future development of a company's financials. All estimates can be finetuned manually.
Transparency

We inform you of our bankruptcy risk calculation methods so that you understand the factors behind a given bankruptcy risk.
Flexible pricing plans

After the beta phase, you will get access to three companies of your choice every month. In case you need more, you can easily upgrade your subscription or buy individual companies depending on your needs.